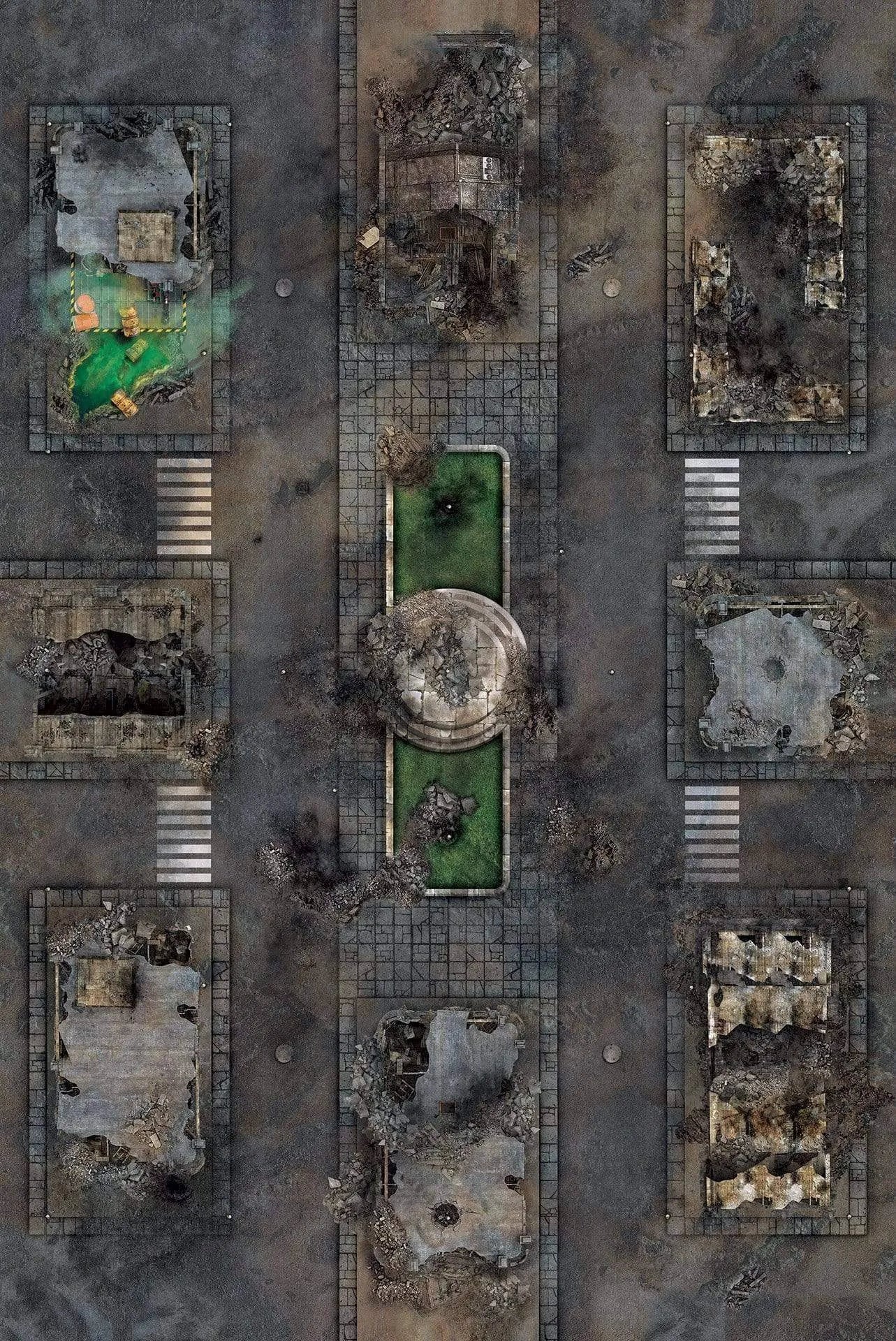 Apocalypse V9 - 72X48 - Game mat Wargame
🎁 Free delivery from 200€
180cm x 120cm Apocalypse battle area for your warhammer 40,000 V9 ​​campaign.

The mousepad game mat Apocalypse from the Serie Scenery  is one of the most requested of the collection!
Decorative and scenic playmat created especially for Warhammer 4000 V9. It was designed taking into account the dimensions and marks of WH40K V8 and V9! In addition, if you put several next to each other, you will get a huge battlefield for your apocalypse games.
I advise you at least 5 to enjoy :)
Midtown mayhem game mat

The mousepad game mat Street from the Serie midtown mayhem mat depicts a street in the midst of urban warfare.
This mat contains a whole host of hideouts that will allow you to have an easier and faster warhammer 40,000 deployment. In addition, the dimensions for wh40K V9 are also shown. 
It's simple: Find the skulls!
 Perfect for urban, modern or futuristic games, this playmat will considerably improve the immersive aspect of your games and scenarios. With this detailed design, you are ready for THE war!

Ideal for players of: WH40K V9, Kill team, Modern Battle Reenactment, Eden, or else Zombicide, etc.


Standard size for all types of miniature games, role-playing games or board games.


You can discover this model on this battle report:
Characteristics
Features of this playmat:
Taille : 6'x4' - 183cm x 122cm
FREE "Battle Bag" bag!
Neoprene and jersey play mats (mouse pad). 
Highly detailed "Full color" print
Thickness: 2 to 3mm
Liquid resistant
Anti-slip
Anti-crease and anti-bump
Anti-reflection UV filter
Ensures smooth movement of figures
Soften the sound of the dice falling on the carpet
The weight of the carpet ensures a perfectly flat rendering
Weight: 4.5kg
⚠️ We remind you that neoprene is a flexible and deforming material, which when cut or printed (hot at 300°) can be deformed. It is therefore possible that the size of the mats differs by + or - 1 inch.
The format cannot therefore be guaranteed (current rate of returns on this problem = less than 1% of orders)
Des tapis de jeu immersifs, beaux et résistants !
Tous les bénéfices d'un tapis de jeu Crank WArgame
REDUCES THE SOUND

ANTI-REFLECTION

NO WRINKLES

WATER PROOF

NON-SLIP

FREE BAG
Impression HD

HD prints at 300dpi
Hydrophobic and anti-UV layer.

2.6mm thickness

For more resistance,
the thickness is 2.6-3mm.

Important

Sizes can
vary very slightly.

Rounded edges

Avoid any detachment
and tearing of materials.
Au top. Et quel gain de temps pour placer les objectifs et les zones de déploiements.
Merci à vous
Au top!
Commande reçu hyper rapidement, tapis de jeux magnifiques, bonne communication de l'équipe et en plus un cadeaux dans la commande.
Bref, je recommande grandement👍
Très bien
Un tapis en matériau souple, mais semble t il assez résistant. A voir dans le temps